​
Home
>
About Us
You are exposed to a seemingly endless list of risks, all the while continually being asked to do more and more. LGIS is a no​t-for-profit industry based mutual indemnity scheme owned by over 145 Western Australian local governments and focussed on meeting your unique requirements. By pooling together, you benefit from economies of scale and therefore avoid the volatility of the traditional insurance market.

​A key component of the mutual indemnity scheme is your ability to manage your exposure to risk. This is achieved by taking a coordinated approach to risk management, claims management and injury management that is holistic and seamless. The longer term view of the Mutual arrangement means decisions and profits are not driven by the delivery of limited, short-term returns. By working together you benefit from:
The broadest possible protection that responds when required
Competitive pricing
The utmost security
A vehicle where the cost of risk can be balanced over time
The ability to accurately budget for the future

A proven track record of delivering sustainably low contributions even in the face of adverse claims outcomes
Dividend reimbursements
Complimentary risk management services and programs
More efficient service and better claims outcomes
​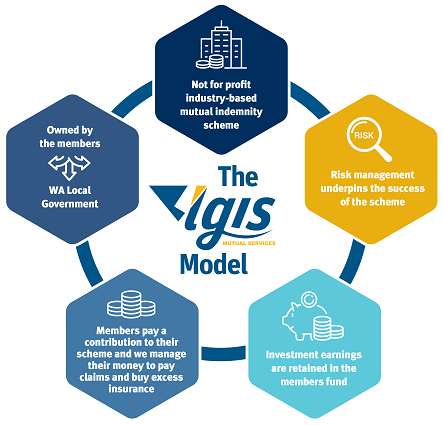 The LGIS mutual indemnity Scheme is managed with sound commercial acumen, financial controls and efficient management. A trust deed sets out the structural arrangements of the Scheme and the Scheme rules directs the rights and obligations of you the members relating to operational matters.
​