Home
>
Risk management
>
Occupational safety and health
​

LGIS are continually developing resources to assist our members to improve their safety.
Take 5 handbooks
The Take 5 handbook is a tool to encourage your workers to stop and think about the job they are about to do to ensure they can do it safely. Whether working in the depot, in the recreation centre or out on the road, the Take 5 is a great way to reinforce the importance of safety for each and every job. To get your complimentary take 5 handbooks, contact a member of our OSH Team on 08 9483 8888.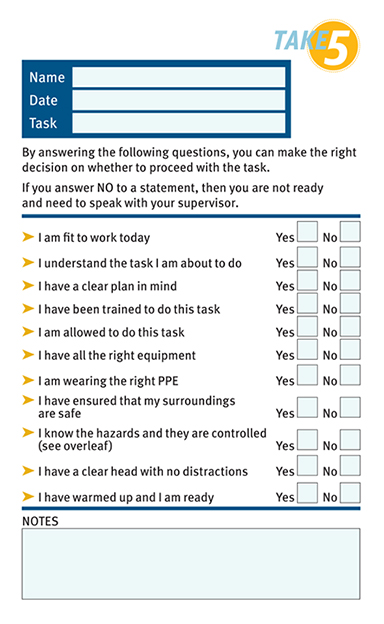 Please note: Maximum 300 books per calendar year/per member. Minimum order of 100 books (to include personalised logo) and orders of less than 100 books (to include LGIS logo). Additional books (over and above the 300 allocation) will attract a cost to cover printing and postage expenses. ​
Safe Work Method Statement Booklets
The use of safe work method statements is gaining popularity across local government, both for high risk construction work and for undertaking assessments of other work activities.
Safe work method statements are required to be completed for all high risk construction work activities. High risk construction work activities are those listed in Part 3.137 of the Occupational Safety and Health Regulations, 1996.

Prior to starting work, first complete a pre-start meeting meeting checklist​. The outcome of this checklist should inform your safe work method statement.
Safe work method statements must be documented and set out as follows:
a) each high risk construction work activity that is or includes a hazard to which a person at the construction site is likely to be exposed
b) the risk of injury or harm to a person resulting from any such hazards
c) the safety measures to be implemented to reduce the risk, including the control measures to be applied to the activity or hazards
d) a description of the equipment used in the work activity
e) the qualifications and training (if any) required for persons doing the work to do it safely
LGIS has developed safe work method books to assist you to complete your pre-start meeting checklists and safe work method statements. To order hardcopy books, contact a member of our OSH Team on 08 9483 8888.
Managing volunteers ​
In addition to managing the safety and wellbeing of your workers, most local governments are also supported by volunteers in areas such as meals on wheels, visitor centres, bushfire brigades just to name a few.

Volunteers are an integral part of the WA Local Government sector and effective management of them are essential to maintaining a stable volunteer program. To find out more about how you can support and manage your volunteers effectively, please download a copy of our A Guide to Managing Volunteers in Western Australia Local Government(pdf)​.