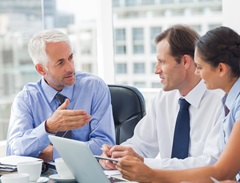 ​Local government leaders are adept at navigating a complex legislative and regulatory environment and in 2021/22 it's changing again.
The Work, Health and Safety Act 2020 (WA) raises questions around organisational and personal responsibility alongside how it relates to the existing legislation of workers' compensation and workplace relations.
Local government CEO's are invited to join LGIS' panel of legal experts for a fireside chat exploring the ramification of new regulations on the local government sector and the implications for its leaders. We'll cover areas such as:
A CEO's duty of care and personal responsibility
How to influence and improve outcomes
Working with councillors
The law vs 'what's right'
CEOs know the importance of frank conversation around complex issues – this events provides an opportunity to ask legal experts with decades of combined experience the curly questions that arise for local government leaders managing complex organisations.
LGIS has curated the CEO Breakfast to specifically address the issues that CEO's are discussing with us. The program for the breakfast is as follows.
Meet the speakers
Martin Dobson | Partner, Moray & Agnew
Martin is a partner at Moray & Agnew Lawyers. He has specialised in workers' compensation insurance for over 35 years. He has acted for LGIS and a wide range of councils for the last 25 years, advising on workers' compensation, common law and workplace disputes.
Martin has made numerous appearances at WorkCover, as well as in the District Court, and other courts, and at Fair Work Australia regarding employment-related compensation matters. He has played a long-standing role in training and mentoring, as well as presenting at numerous seminars for the legal profession, LGIS and councils.
Samantha Maddern | Partner, Mills Oakley
Samantha has 30 years of experience across a variety of roles in human resources, employee relations and employment law. This experience allows her to provide practical, solutions-focussed advice. She is renowned for helping her clients successfully navigate the complexities and challenges that frequently arise in the modern Australian workplace and to effectively manage workplace risk – both the expected and the unexpected
CAV Maria Saraceni, Counsel | Francis Burt Chambers
Maria has over two decades of experience in the areas of regulatory and compliance law, particularly occupational health and safety, and employment/industrial relations. She's worked across both private and public sectors - including local government.
She has provided advice on matters under investigation and appeared as counsel in investigations, coronial inquests, court and tribunal cases – and represented the former CEO at the Perth Inquiry.
She is passionate about workplace safety and is the President of IFAP, the independent, not-for-profit training organisation committed to delivering quality workplace safety training and advisory services in work health and safety. 
Download the full program HERE
Event details
The WorkCare CEO Breakfast is a must for all WA local government senior leaders, spaces are limited so bookings are essential
Date: Monday 11 October, 2021
Time: 7:00 am for a 7:15am start to 8:45 am
Venue: Botanical Rooms, Crown Perth, Burswood
Cost: $60 (+GST and booking fee)
Bookings: Book online at Try Booking https://www.trybooking.com/BTSJK.
Queries: Contact Anne Clarke at anne.clarke@lgiswa.com.au or call 9483 8850