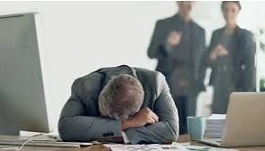 The 'R U OK?' organisation estimates only half of psychological injury claimants go back to work within six months.
It's imperative to be on the front foot in prevention.
This can be done through training and support, and also through removing the stigma of mental health within the workplace. R U OK? recommends leaders and managers with personal experience of mental health conditions share their experiences (if comfortable), as this often encourages other employees to seek support.
Meanwhile, Black Dog Institute recently urged employers to concentrate on programs proven to help workers in need, rather than focussing on mental health "awareness campaigns". The Institute claims research conducted for its new white paper on tackling suicidal behaviour shows that mental health awareness days do not work.
Unfortunately psychological injury claims have grown in recent years throughout WA, and LGIS has seen this reflected within the local government sector.
Beyond mental health awareness days
WA local governments are proactively seeking strategies to create mentally healthy workplaces to have happier more productive staff and reduce the number of psychological injuries within their organisations.
The Local Government Workforce Risk Forum has been developed recognising that safe supportive workplaces don't just happen – that they are created with intent and purpose.
This special event will tool attendees with plenty of practical techniques to develop and implement organisational mental health plans. The forum has been curated by LGIS to address issues currently faced by local governments. Over the course of the day experts in their field will explore:
Creating happy and resilient teams
Thriving, happy and productive workplaces
Psychological health and stress management
How to fight fairly and be effective at work
Local government insights, sector leaders share strategies and experiences
The power of positive psychology
Dr Tim Sharp aka Dr Happy is the keynote speaker at the 2021 Local Government Workforce Risk Forum. His specialist area is positive psychology.
The emergence of positive psychology over recent decades has led to the development of exciting practices that contribute to both the prevention of psychological injury and distress, as well as promote aspects of positive organisational culture.
In his keynote presentation at the 2021 Local Government Workforce Risk Forum, Dr Tim Sharp will summarise some of the main findings from the research with a focus on practical applications that will make a positive difference for any individual, team and workplace. You'll hear about how you can use positive communication, focus more on psychological strengths and attributes, build stronger teams and more, all to foster thriving and flourishing in ways that work for you.
Event details
The Workforce Risk Forum is a must for all WA local government leaders, risk and people managers. Spaces are limited so bookings are essential.  
​Date:

​Tuesday 16 February, 2021 NEW DATE! Tuesday 20 April, 2021

​Time:

​9:00am to 4:30pm (morning tea, lunch plus sundowner drinks and nibbles)

Venue:

​Botanical Rooms, Crown Perth, Burswood

​Cost:

​Full Day - presentations and workshops, $250 (+GST) per person
Half Day - morning presentations only, $190 (+GST) per person

​Bookings:

​Return to Anne Clarke by Thursday 9 February 2021. Email anne.clarke@lgiswa.com.au or call 9483 8850
This event is proudly supported by